Till date, £161.1million is the largest ever jackpot to be won in the United Kingdom since the first National Lottery (now called 'Lotto') sweepstake was held in 1994. Every week several UK citizens become Euromillion winners by purchasing a National Lottery ticket or scratch card but amongst these fortunate millionaires, some have been extremely lucky to scoop up a purse running into nine-figures. Until now, a total of 91 participants in UK have been lucky enough to win the Euromillions top prize or at least a fragment of the jackpot.

UK Euromillions jackpot winners have earned over and above £7.3 billion in total. The jackpot cap or ceiling for Euromillions is €190 million or £149 million which has been pocketed only three times since the Euromillion sweepstake was announced. Initially, the Euromillions rollover happened up to a maximum 11 times and the jackpot was maxed out at €185 million which was deemed as quite restrictive.
Therefore, the upper limit was raised to and capped at €190 million that became effective in 2011, following the winning of the €185million jackpot by the British couple Colin and Chris Weir.
Basic info about Euromillions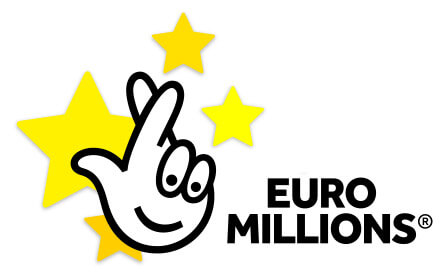 You have to select and enter any 5 numbers from a number pool ranging from 1-50, and choose at least 2 'Lucky Stars' starting from 1-12 for playing Euromillions. All Euromillion winning combinations should completely correspond or match all five core numbers together with the two lucky star numbers. There are a total of 13 tiers or levels of prize money from which you win a purse which basically implies that your odds of winning are 1 in 13.
You are guaranteed to win a prize if at least 2 numbers you entered, tally with the ones figuring in the draw. Of course, your takings increase gradually as more numbers you chose match up with the numerals emerging from the sweepstake. You can access more details or information regarding the Euromillions draw and its formalities here.
5 biggest winners
Table of winners
1. Chris and Colin Weir were the British couple to win £161 million jackpot in 2011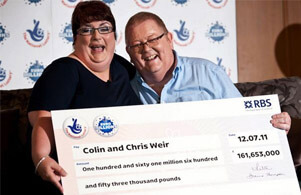 Chris Weir lived a low-key life with his wife Colin and two children, working as a TV studio manager and cameraman till his and his family's life changed forever on the night of 12th July 2012. It was on this fateful date and night that the Weirs were declared the Euromillion winners where the couple were assured of receiving a £161 million check at the Camelot studios. The jackpot was bagged by them following multiple rollovers and they were declared winners at the Macdonald Inchyra Hotel & Spa, close to Falkirk, Scotland.
Mrs. Weir, a psychiatric nurse, was running out of luck while matching her numbers but could not believe her eyes when she saw all the draw numbers were sitting juxtaposed on the fifth line. The couple bought a computer, tractor, a swanky estate home, and embarked on a cruise tour. You can read a more detailed story about the largest ever jackpot in the UK.
2. Adrian Bayford and his wife walk out on each other after winning £148 million jackpot in 2012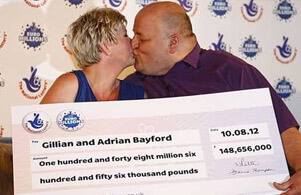 Adrian Bayford and his wife Gillian by cornering the £148 million jackpot in 2012 went on to corroborate the assertion that money is the 'root of all evil'. Following the unprecedented win in August 2012, the couple split up after 15 months. They had been married to each other for close to a decade. Adrian splurged his part of the purse lavishly on Samantha Burbridge an attractive and athletic lass who left him for an impoverished boyfriend. Gillian went back to her homeland, Scotland with their two children and married a car salesman.
3. An elderly couple become the first British nationals to win £113 million Lotto
The Euromillions jackpot in 2010 happened to be anonymous pensioner who maintained that her husband had binned the ticket printed with the winning combination but had noted down her win in a notebook. The purse of £113 won by the pensioner was till then the largest ever jackpot to be pocketed in UK.
4. Neil Trotter won £108 million jackpot in 2014 the fourth largest UK Lotto prize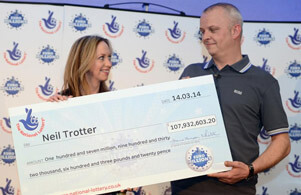 Neil Trotter, car mechanic by profession and a passionate racing driver strongly believed that he was fated to be a millionaire and had even prognosticated on 14th March 2014 that he was going to win the Euromillion lotto and his prediction came true. After the win, he stopped working as a mechanic and invested a fortune to buy a supercar fleet.
5. Angela and Dave Dawes covets the 3rd largest UK bingo jackpot of £101 million
Dave who had never won a sweepstake in his life was simply awestruck and left speechless on the night of 7th October in 2011 when it became clear that he had won the jackpot purse amounting to £101 million. He and his wife Angela decided to donate about 1 million pounds to 20 of their closest acquaintances.
References